Stephen Philip Howard Frakes

Genealogist and Historian


Salem, Illinois & Verde Valley, Arizona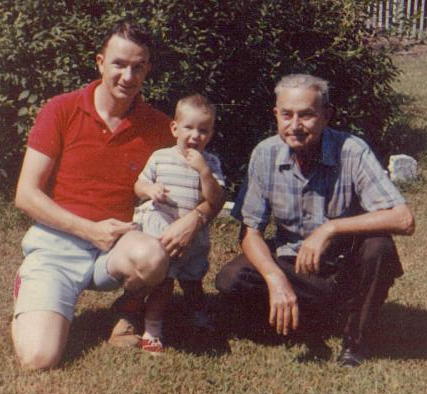 Hi, I am Stephen Philip Howard Frakes, and I am presently living in Salem, Marion County, in the Great State of Illinois. I lived my youth in Springfield, Illinois, the Capital of Illinois and the home town of Abraham Lincoln. I was born the 2nd of October, 1957 in Highland, Madison County, Illinois. My parents were living in Edwardsville at the time. I love the photo at right. It is of my father, Philip Howard Frakes, me and my grandfather, William Philip Frakes.
When I was a Freshman in high school, attending Southeast High in Springfield, my family moved to Marion County, where they were raised. I then attended Kinmundy-Alma High School in Kinmundy, Illinois the rest of my freshman year and my sophmore year. I then went to Patoka High School in Patoka, Illinois for my junior and senior year, graduating there in 1975.
I attended college at Johnson & Wales College in Providence, Rhode Island, majoring in the Culinary Arts. Rhode Island may be a small state, but it is a great state in friends for me. After college, I worked at Powers and McAndrew's law firm in downtown Providence. I did paralegal work. I later moved back to Salem, Illinois. You can see some of my New England friends at my Rhode Island Friends Web Page and my Massachusetts Friends Web Page.

Because of my love of history, I was appointed to the Salem Historical-Patriotical Commission, by Mayor Leonard Ferguson, and remained there for several years, serving in the capacity of chairman and also of Secretary. I served as Secretary-Treasurer of the William Jennings Bryan Memorial Committee. I have been a member of the Marion County Genealogical & Historical Society since the 1970's.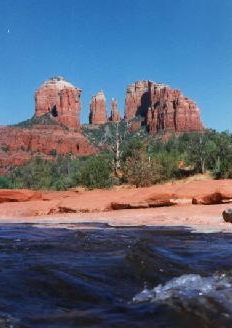 In 1999, I moved to Cottonwood, Arizona. I moved to Arizona to help a friend Darrell Lundberg, who was also originally from Illinois, open his store, Seasons Party Shoppe.

From there I worked at "Crossroads Youth Shelter" in Cottonwood. Working as a Behavioral Health Specialist with kids ages 12 to 17, inclusive. It was the best job I ever had. I not only felt like I was accomplishing something, but I really enjoyed working with the teens. I hated to leave that job, but the new management made it a terrible place to work. Unfortunately, that new managment ran the shelter into the ground and it was closed. I really miss all of my kids from the shelter. None of them are kids anymore, but they will always be my kids. You can see some of my kids on one of my Verde Valley, Arizona Friends Web Pages at: Verde Valley, Arizona Friends 03. My other Verde Valley, Arizona Friends can be found on the following web pages: Verde Valley, Arizona Friends 01; Verde Valley, Arizona Friends 02; and Sedona, Arizona friends at: My Sedona Friends.

I then began working at Los Abrigados Lodge in Uptown Sedona. It is affiliated with Los Abrigados Resort and Spa, which is located on the original property of Sedona Schnebly, the founding mother of Sedona.

On 2 Oct 2002, I arrived back in Salem, Illinois to help out my mom with my dad, who was ill from Scleroderma, which was affecting his lungs. Sadly, my dad died at home on Friday, 16th of September, 2005. We all still miss him terribly.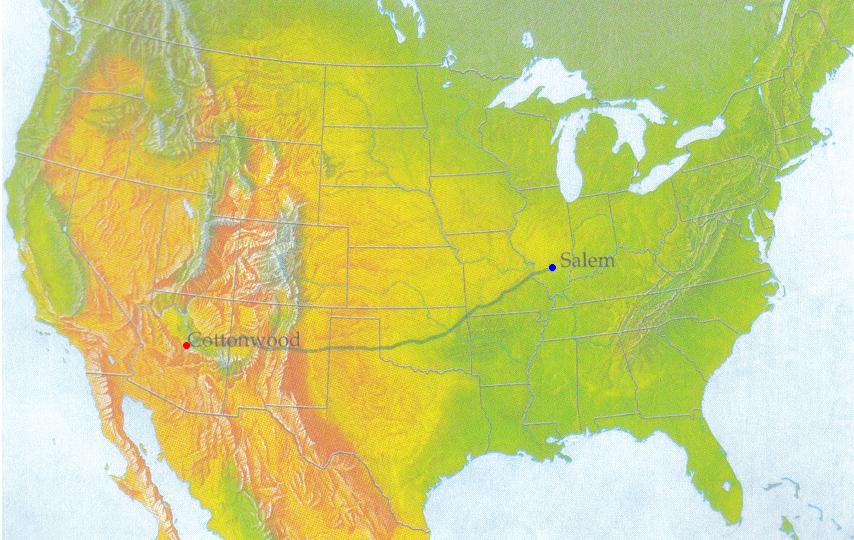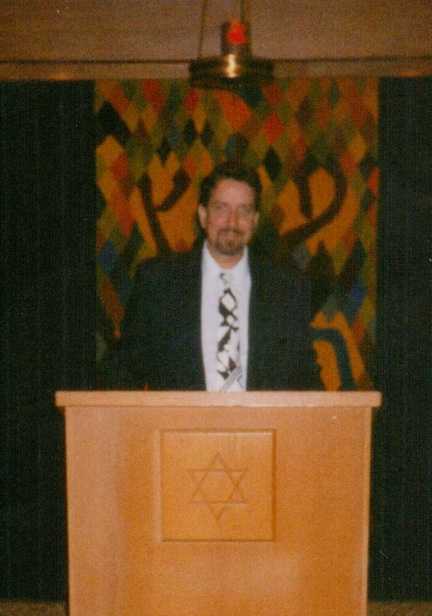 Pertaining to religious matters, I was a member of Temple Solomon in Centralia, Illinois, a small Reform Jewish Temple, until I moved to Arizona. In Sedona, I observed the high holidays with my very good friends, Fred and Audrey Dorfman and their son Nathan and other friends. We usually observed the Passover Seder with friends in Flagstaff and Break-the-fast (Ending of Yom Kippur) at the Dorfman's in Sedona. It was always a good time with good friends. While living in Arizona I came to the realization that one does not need organized religion to be spiritual. God is not a religion. Religions are man-made. I therefore feel no need to attend an organized religion, but do on occasion. Temple Solomon in Centralia was sold in 2004 because there were so few members who were left in the area.


In photo above, left to right: Audrey Dorfman, Stephen Frakes and Fred Dorfman at Los Abrigados Resort & Spa in Sedona, Arizona. In photo at right: Me, Stephen Frakes, at Temple Solomon, Centralia, Illinois.

Besides working, I kept busy in Arizona as Vice President of the V.V.A.L.C. and doing the OUT 'N About web page for them, as well as the newsletter, "Closet Times". It is the glbt organization of the Verde Valley. After moving back to Salem, Illinois, I started L.A.G.O.S.I. (Lesbians and Gays of Southern Illinois), which was an active group for a few years, but had to stop being involved because of my health.

In 2002 I began to have problems with my feet. By 2003, I could hardly walk and was diagnosed with severe neuropathy. There is always pain in my feet and when I walk on them the pain becomes worse and remains worse for some time even after I have sat back down. The neuropathy is in my feet, ankles, calves of my legs and my fingers. I can only type for a short time, as it feels like there are tacks on the keys of the keyboard after typing for a little bit. Thank God for television and books, or I would literally be dead from boredom. It is kinda tough, being a person who was so active in both community and politics, to just sit around at home all day every day. Fortunately, I have a wonderful supportive family and a mother who is a jewel.

Here are Many of my Favorite things:



Actors: Chad Allen, Stephen Amell, Paul Blackthorne, Tim Daly, Josh Duhamel, Barrett Foa, Elyes Gabel, Grant Gustin, Colton Haynes, Kris Holden-Ried, Daniel Dae Kim, Ryan Kwanten, David McCallum, Steven R. McQueen, Sean Murray, Dylan O'Brien, Alex O'Loughlin, Alexander Skarsgård, James Stewert, Tom Tryon, Chris Vance.
Actresses: Sasha Alexander, Sandra Bullock, Stockard Channing, Tyne Daly, Judy Garland, Sharon Gless, Angie Harmon, Linda Hunt, Nicole Kidman, Queen Latifah, Téa Leoni, Andie MacDowell, Katharine McPhee, Kathy Najimy, Lesley Nicol, Grace Park, Pauley Perrette, Debbie Reynolds, Christina Ricci, Sarah Shahi, Maggie Smith, Barbara Stanwyk, Shirley Temple, Dianne Wiest.
Books: "Abraham Lincoln: Vampire Hunter,", by Seth Grahame-Smith, "A Ghost For Maggie,", by Emily Carmichael, "Inside Lincoln's White House - The Complete Civil War Diary of John Hay,", Edited by Michael Burlingame and John R. Turner Ettlinger, "Mayflower: A Story of Courage, Community, and War,", by Nathaniel Philbrick, and the Wagons West Series by Dana Fuller Ross.
Collection: Beer Steins and Teapots.
Color: Cobalt Blue.
Countries: United States of America and England.
Dogs: Chihuahua; and a German Shepherd-Collie mix.
Drinks: Pepsi, Water, Milk, Iced Tea, Baron Philippe de Rothschild's Mouton Cadet, Newcastle Brown Ale, Gin & Tonic (using Bombay Saphire Gin), although I rarely drink alcohol, I do enjoy it once-in-awhile. And last but not least, Hot Earl Grey Tea.


Flowers: Lilacs, Daffodils and Irises.
Food: All kinds of Pasta; Salad; Deviled Eggs; Mashed Potatoes and my mom's rosemary fried chicken.

Herbs: Garlic, Rosemary, Basil and Dill.
Hobby: Or should I say passion: Genealogy.
Holiday: Thanksgiving Day.
Household Things: Family Antiques, China, Crystal, Silver, Tea Pots and all kitchen gadgets.
Meat: Chicken and Turkey and Hebrew National Hot Dogs.
Metal: Gold for jewelry; Silver for tableware; copper for pans.
Mini Series: Blue and the Gray, Cranford, Lark Rise to Candleford, North and South, North and South, Book II.
Movies: "Europa Europa" -1990; "Last Holiday" -2006; "Night of the Twisters" -1996; "Philomena" -2013; "Porky's" -1982; "Practical Magic" -1998; "Regular Guys" aka "Echte Kerle" -1996; and all Shirley Temple movies; "Stardust" - 2007; "The Best Little Whorehouse in Texas" - 1982; "The Hundred Foot Journey" - 2014; "The Lost Boys" - 1987; "Too Wong Foo Thanks for Everything, Julie Newmar" - 1995; "Walk On Water" - 2004 Israeli Film.


Religion: Reform Judaism; Native American Spirituality.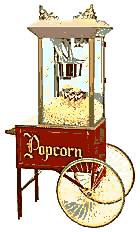 Restaurants Chains - Fast Food - Drive-Thru: Culvers and Subway.
Restaurants Chains - Sit Down: Cracker Barrel , Steak n shake .
Restaurants Not Chains: Kelly Jae's Cafe; in Goshen, Indiana; The Haunted Hamburger aka The Jerome Palace in Jerome, Arizona.

Season: Autumn. I love the freshness and the color.
Smells: Thanksgiving Dinner Cooking; Lilacs; the smell of the desert after a rain; wild roses in the old fence rows; honeysuckle.
Snack Food (Comfort Food): Popcorn.
Sounds: My family and friends laughing; Water running in a stream; Birds singing happily; Frogs and Crickets singing at night.
States: Arizona, Illinois and Rhode Island.
Stones: Emerald, Ruby and the red rocks of Sedona.
Television: Bull; Chicago Fire; Chicago Med; Father Brown; Hawaii Five-0; Hollywood Medium; Instinct; Madam Secretary; McGyver; NCIS; NCIS New Orleans; Scorpion; Take Two; The Durrells in Corfu; Victoria; Who Do You Think You Are? .



Animal Spirit Guides: Wolf and Raven.

Totem: Black Panther from the East; Opossum from the South; Hawk from the West; Otter from the North; Frog from Above; Skunk from below and Beaver from Within.






I am a Libra





My Surprise 50th Birthday Party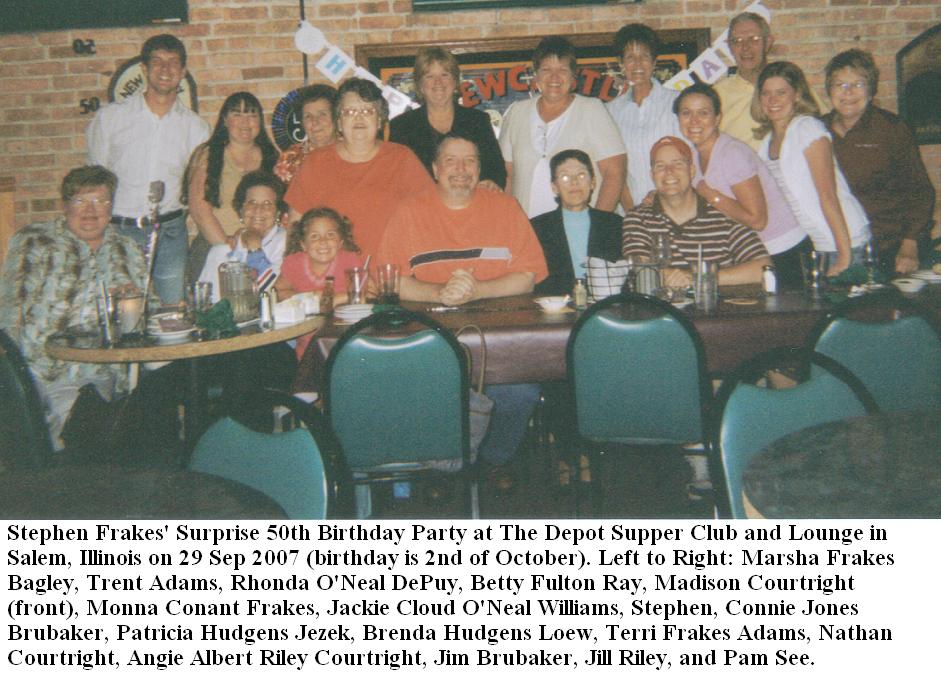 MY FAMILY
I was born 2 October 1957, Highland, Madison County, Illinois, the son of the greatest parents in the world, Colonel Philip H. and Monna Marilyn (Conant) Frakes.

I have two sisters, Tanya Rae (Frakes)(Courtright) Belfiore of Salem, Illinois and Terri June (Mrs. Richard Dale "Rick" Adams of Adams Farm, rural Patoka, Illinois. I have five nephews: Nathan Roddy Alan Courtright, Trent Maurice Adams, Brock Richard Adams, David Philip Anthony Belfiore and Daniel William Eli Belfiore.

My father was born and raised in Salem, and my mother was born and raised in the Kinmundy-Alma area, in Foster Township. My father has been involved in many organizations, including the Lions Club, Shriners and has held appointed and elected positions including the Salem Zoning Commission and Republican Central Committeeman, including Chairman of the Marion County Republican Central Committee, and has served on several state boards including Military Aide to former Governors Jim Edgar and George Ryan.

My nephew, Nathan, is married to a lovely gal named Angie Jaye (Albert)(Riley) Courtright. They were married in September of 1999 and live in Salem, Illinois. Angie is a school teacher and Nathan is empolyed with the State of Illinois as an officer at a prison in Vandalia, Illinois. Nathan graduated and received his bachlors degree in law enforcement in December, 2004, Eastern Illinois University. Nathan served in the United States Marine Corp and saw action in Somalia. Nathan and Angie had their first child together on Friday, 29 March 2002, Breese, Clinton County, Illinois. She was named Madison Jaye Courtright. So now I am a great-uncle. :) Angie also has a daughter by a previous marriage who I consider to be my niece, Jillian Rebecca "Jill" Riley.

My mother's side of the family has been in Marion County, Illinois since 1830, when Airs Conant, Esquire and his wife, Mary "Polly" (Pepper) Conant, settled here. He was a school teacher, Justice of the Peace and a farmer.



Nathan and Angie's Wedding in Salem, Illinois, in 1999

Seated left to right: Daniel William Eli Belfiore, Monna Marilyn (Conant) Fakes, Philip Howard Frakes, Terri June (Frakes) Adams, Trent Maurice Adams.

Standing left to right: Brock Richard Adams, David Philip Anthony Belfiore (in back), Nathan Roddy Alan Courtright, Richard Dale Adams, and Stephen Philip Howard Frakes.
This is my family's home in Salem, Illinois. It is the oldest home in Salem. Built in 1842 for Rev. Benjamin F. & Mary Putnam (Rand) Lemen. My great-grandparents, Julius and Anna (Maier) Merten, were the first of my family to own the home. They moved into the home in 1909. Then in 1941, my grandparents, William Philip and Beatrice Margaret Julietta (Merten) Frakes, became the owners of the house. My parents, Philip Howard and Monna Marilyn (Conant) Frakes, took ownership in 1981. This photo was taken in the Spring of 1994.





Can you tell I adore my family and friends?





And NO!, it isn't the end yet.

This is my grave stone that I have set up in Sandy Branch Cemetery in Foster Township, Marion County, Illinois. It is in an old family cemetery and it is set next to my sister's, Tanya's, who in turn is next to my mother and father's.
The first photo is of the front of the grave stone. It also has my parents' names on it and it has my Frakes Coat of Arms and the flower vases have the Star of David on them. The 2nd photo is the back side of my stone with the genealogical information on it.







Stephen Frakes


Create Your Badge




Stephen and Politics





Stephen and Genealogy





Stephen and his many wonderful friends





My Home, The Lemen-Frakes House










Stephen P.H. Frakes
321 South Franklin Street
Salem, Illinois 62881-2120









This Web page was started on 10 January 1998 at 10:57 P.M.
Last Updated:
25 February 2017







Copyright © 1998-2018 stephenfrakes All Rights Reserved.